Dog Doors and Cat doors Buying Guide
Author: Vebo Pet Supplies Date Posted:18 May 2020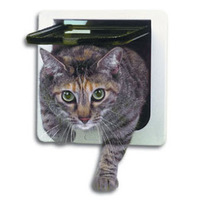 Installing a pet door at home can be a great investment, especially if you have an indoor dog or cat and you are not always home to let them out for toilet breaks. An access door will give them the freedom to go in and out of the house whenever they want, and potentially saves you a lot of time and money cleaning up accidents inside the house. It is also great if your dog tend to wake up really early so you won't have to wake up and let it out 6am on a Sunday morning. So a happy pet and even happier owner!
There are several things you need to consider when choosing a dog door or cat door
Size of the pet door
Obviously your pet needs to fit through the door in order to be able to use it. Most brands would ask you to choose based on your dog's weight, which works most of the time. However some dogs have rather unusual weight/size ratio, like English Staffordshires (very wide shoulder for a small breed) , so if you are unsure, the best thing to do is check the door's width and height, cut out a hole of that size on a piece of cardboard and get your dog to walk through it. As a general rule, try to get the smallest door that your pet can get through, an unnecessarily large door will just create a bigger security risk for your home.
Type of pet door installation
There are different doors made specifically for different installations. For example, you have pet doors that are designed for glass installations, which are unusually round in shape and has a slim frame (because it is much easier to cut a round hole on glass), like the Transcat and Pet-tek range. Due to the relatively fragile nature of glass, most companies would only make glass installed pet doors for dogs up to around 15kg in size. If you have a bigger dog than that, you may want to install it somewhere else.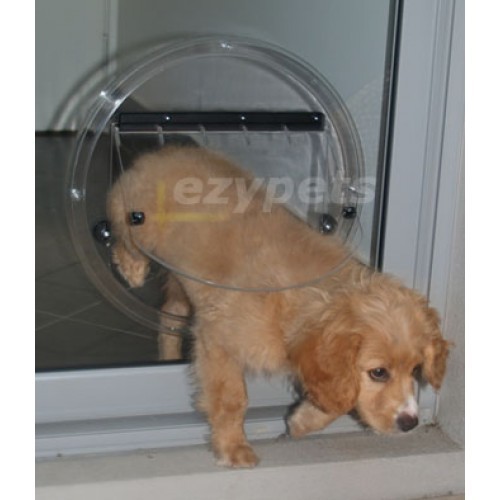 There are also doors specifically designed for flyscreens and security doors, like the Petway range (which is Australian made and comes in colours that are most common in Australian homes)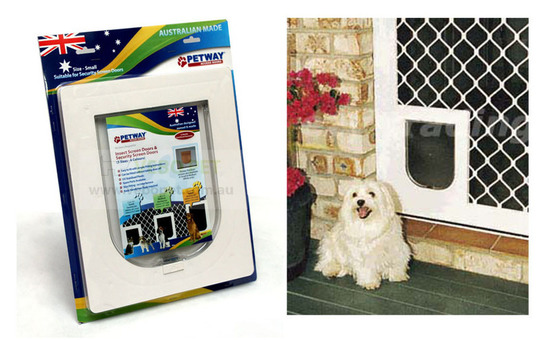 So work out where you want to install the door and find the right type.
Durability of the door
In most cases, you are cutting a hole in an existing door / wall / window that cost hundreds of dollars to replace and there's no going back once the hole is cut, so it is in your best interest to get a pet door that will last. Look for good brands with warranty, as well as ones that sell replacement parts like flaps. Petway for example is excellent in this regard, as you can still replace a Petway flap installed 10 years ago!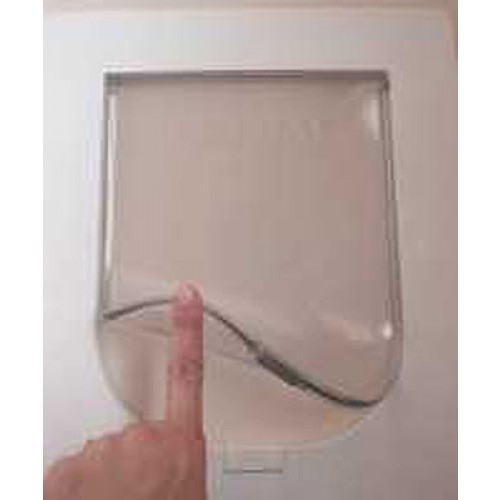 Locking Mechanism
Most brands have some type of locking mechanism on them, it's either a full slide-in panel that blocks off the door, or a little locking latch on the side. Slide-in panels are slightly more secure, but the locking latches can offer in-only or out-only modes.
We stock a wide range of quality dog doors and cat doors in our store, if you think you have trouble finding the right one, just contact us and we can assist you.