Camping With Your Dog
Author: Vebo Pet Supplies Date Posted:10 March 2017


Holidaying with your pet can be great fun and richly rewarding. When it comes to more serious travelling like a camping trip, however, you'll need more than a few doggie bags and a water bottle to keep your pet safe and comfortable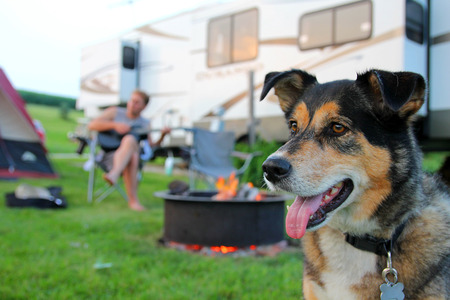 Going Camping?
Holidaying with your pet can be great fun and richly rewarding. When it comes to more serious travelling like a camping trip, however, you'll need more than a few doggie bags and a water bottle to keep your pet safe and comfortable. Based on ours (and many customers') experience, there are a few things you need to consider when planning a camping trip with your dog.
Site Research
Do not just rock up to a camp site with your dog, because a large number of them do not actually allow dogs. so there is a very good chance that you would need to pack up and leave right away. National parks do not allow dogs to enter so they are all out of the question. It is very very important to do your research in advance, fortunately there are many websites that list out pet friendly options, so all it requires is a quick Google search.
The Drive
In case you didn't know, it is legal to have a unrestrained dog in the car, so your dog can either wear a
seat belt
and car harness, or it needs to be in a
crate
. Even if your dog travels well in your car, it is still a good idea to use a travel crate in the car for the longer trips. If your dog gets car sick and throw up, or have an accident while in the car, a crate will make it much much easier to clean up, plus it will be useful at the camping site.
If you do decide to bring a crate, try using one that your pet has already slept in. This means a bit of pre-planning, giving your pup ample time to get used to their travel crate before heading out. The most popular options for our customers are
fabric crates
and
plastic airline crates
, but if you have a large enough car and don't mind the extra weight, you can certainly take a collapsible metal crate with you.
The Camp
Tent, cabin or RV, whatever your home away from home is on your camping trip, one thing is certain, it's a strange environment for your dog. Unless you've taken your furry friend to the same location several times before, then this may be foreign territory for them, so it's a good idea to show him around the area first so he doesn't get lost right away. At the same time, scot for hidden dangers such as access to main roads etc.
Some dogs can get noisy and bark a lot when they get nervous, you (as well as other campers) definitely don't want to be up all night while your pup barks at random things. So if you dog is like that, it's also a good idea to bring a crate or playpen that can provide them a safe space and a sense of security, it will defintiely help the nervous ones. It would also be useful if there are lots of young kids around, because some young kids may not know how to handle a dog, they could either hurt the dog or they may do things to trigger a defensive response from the dog which could be dangerous. So when you are not available to keep an eye on the dog, you can always put the dog in the crate or
playpen
for short periods and havie the peace of mind that they won't get into trouble.
Obviously there will be more mosquitos and bugs out there, if dogs do not deal with bugs well, try to bring a insect repellent for dogs. If the weather is cold, make sure there is a nice warm place for the dog to sleep in (e.g. bring a blanket or
cover for the crate
). Just in case there are fleas and paralysis ticks in the area, it's also a good idea to apply
flea and ticks treatment
in advance.
Camping can be an amazing experience for you and your dog, so be well prepared, you're sure to have a great adventure!
---
Leave a comment