Outdoor Dog Run and Dog Fence Buying Guide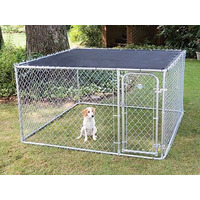 First of all, let's get the terminology out of the way. In Australia, the term "dog run" is used fairly loosely, so where people say "dog kennel run", "dog kennel", "dog fencing", they could be referring to the same thing.
Not every dog will require a dog kennel run, but if one of the following applies to you, you can consider putting one in your home:
Your backyard is not secure, your dog is getting out from your yard and is at risk of injuring itself on the road
You have livestock, small pets or plants in your yard so you want to protect those from your dog
Your dog is deemed dangerous by council
If the last one is applicable to you, you will probably need to speak to a professional fencing company as the requirement for a dangerous dog is quite strict and not many off-the-shelf products meet their specific requirements.
So here are the things you will need to consider when choosing a dog run for your home:
Size of the dog run
Depends on the size and shape of your backyard, you can work out which is the best area for it and what are the maximum dimensions. Usually it the bigger, the better.
Type of dog run panels
There are 2 main types of dog runs. There is the chain-link type and the welded panel type. Chain-link dog runs are generally much cheaper (the DIY kits cost as little as $250) but the down side is that they are fixed in size and shape, they are much harder to setup and put away, and they are hard to repair. The welded panel type is more expensive, but they are generally more sturdier, more flexible with size and shape, as well as easier to setup and put away. Generally speaking, you would need a fairly flat and level area for a dog run, the welded panel type can probably deal with a very slight slope, but the chain-link's rigid frame system (the DIY kits anyway) cannot really deal with a slope.
Usually the other key factors are whether you need to pull the run apart in the near future and how likely are you going to change the size and/or configuration later. If you don't plan to move it for a long time and can't see the need to make it bigger or change the shape. The chain-link dog kennel run kits can offer exceptional value.
Sun and/or rain protection
Australian summers are pretty harsh, so unless your dog run is partly undercover, you should at least look at installing a sun shade for the area. When the weather is really bad, people generally can let their dogs inside the garage or house, but for the occasional drizzle, you should at least consider putting a dog house inside so your dog to get some rain protection.
Flooring
If your dog likes to dig, you may need to take it into consideration as putting the run on grass may allow your dog to dig its way out. You can either put your dog run on concrete or put flooring inside to stop the digging.
Locks
Remember to check the locking mechanism and make sure it is not something your dog can work out.
We stock both the chain-link and welded panel types and we carry a wide range of accessories such as roofs and floor panels. Check out our Outdoor Dog Kennel Runs section and feel free to contact us if you have any questions!